Renee Taft Meloche
Renee Meloche is an international author and speaker who has written 30 books in her Heroes for Young Readers series, which encourage children to dream big, stand tall and be a hero.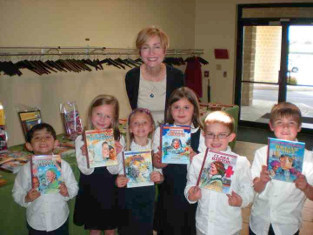 An international traveler with Youth With a Mission, Renee has visited 26 countries and shared her stories with people young and old. Renee's message to parents and grandparents alike is, "Whoever your children see as their hero will be who they turn to in a moment of doubt, indecision or crisis." This inspired Renee to write a series providing positive role models who exemplify courage, faith, perseverance and integrity. Her books plant the seeds of character that will last a lifetime.
Renee is a graduate of the University of Texas with a B.A. degree in Music Education. She has also graduated from Youth With A Mission's School of Creative Ministries.
Renee Meloche was a featured guest expert on top radio shows across the country including CBS Radio, iHeart Media and Salem Radio Networks as well as National Programs such as America's Morning News, Sunrise America and more!
Listen to her interview with Terri Stacy here:
Renee is available for speaking engagements and events. Click the link below to send her an email.
---
Copyright 2015-2020 Renee Taft Meloche